Dissertation
From Robert-Depot
Abstract
My dissertation project, A Machine for Living In, places intelligent systems in domestic space to explore the nature of cognition and identity.
Building on my work with imaginary relationships and constructed intimacies, I turn in the current project from explorations of individual attachments to the home as a system encompassing multiple relationships and flows. Offering a multitude of material anchors and cultural narratives as points of engagement, the home becomes a framework for improvisation and a space to perform within. Architectural details and domestic dramas excised from the flow of the everyday become the events and occasions to stage my machinic interventions.
Drawing on Bachelard's topoanalysis ("the systematic psychological study of the sites of our intimate lives") I take a systems approach to the study of the home and the network of relationships within. Where do systems understandings lose their traction in engagement with the messy conditions of home, family, love, and desire? Where do they succeed? What truth is there in Corbusier's conception of "the home as a machine for living in"?
Embracing tensions between past and future, self and other, biography and fiction, the imagined and real, I rehearse possible futures and perform possible selves through the pieces I construct. Staging my efforts as real interventions in lived space, and restaging them to produce a composite, fictional "home" in the exhibition venue, I push a critical implication of my identity in my efforts along with the home and machines within.
Methodology
Two parts - site recordings and an exhibition scenario.
Site recordings. A series of site-specific interventions developed in real, lived domestic space. I will install various intelligent systems in homes. These will both gather material (audio, video, photographic, physical location tracking) and exist as functional interventions in real domestic space. They will alter the flow of relations in the home through speech synthesis, textual transcription, live video/computer vision compositing, mechatronic automation, producing an augmented or fictionalized transcript of the home space.
Exhibition scenario. Units from the initial phase will be restaged in the exhibition space. The space will be organized into a series of rooms, laying out a very minimal, schematic architecture of a house over the gallery space. (Dogville, Architectural Plan) Individual machines and systems from the first phase will be running in these rooms, effecting both focal interactions with viewers in particular rooms, and communicating with one another in broader, systemic exchanges across the exhibition as machine/system. For their duration of their visit to my piece, viewers will in effect be "living in the machine", composed of the aggregate assemblage of these intelligent subunits. From another dimension, viewers will be living in the house, as materials from the site recordings will be layered over the live processing events.
Placed in closed loops with domestic inhabitants, the intelligent systems I construct foster a reciprocal examination of human and machine. How are our ideas of cognition, perception, and desire changing with the advent of intelligent machines? Which, if any of these, remain strictly the domain of the human? What are the special capabilities, wants, needs proper to each? Their objects of desire? Where do the blurred boundaries between self and other lie? I will harness the productive friction arising from the substitution of machine for human (and human for machine). Given the explicit comparison of one to the other, a mutual diagnosis and critical appraisal arises from the incommensurability of experience and inequality of terms.
Techno-poetic methods.
Machine observers (auditory, visual). Speech recognition technologies Speech synthesis technologies Database structure and query Computer vision (active shape models, trackers, etc)
Literary Bildungsroman, Küntslerroman fictionalized autobiography structured by recurrent imagery (Austerlitz, Rings of Saturn) memory of place. home as the site of development.
Sites
kitchen bedroom / master bedroom bathroom (home sewage) children's room basement (cellar) attic family room (fireplace) living room dining room home office garage home theater home exercise room/gym the drawing room.
home loan home video house fire
home wiring plan home network home sewage system / septic tank / septic field
dog house
closet
Events
Children's drawings.
birthday party.
child rearing.
VR and the Other
References
Quotes
Le Corbusier. Towards a New Architecture
The airplane is the product of close selection. The lesson of the airplane lies in the logic which governed the statement of the problem and its realization.
The problem of the house has not yet been stated. Nevertheless there do exist standards for the dwelling-house. Machinery contains in itself the factor of economy, which makes for selection. The house is a machine for living in. p 4.
If we eliminate from our hearts and minds all dead concepts in regard to the house, and look at the question from a critical and objective point of view, we shall arrive at the "House- Machine," the mass-production house, healthy (and morally so too) and beautiful in the same way that the working tools and instruments which accompany our existence are beautiful. p 6-7.
We are to be pitied for living in unworthy houses, since they ruin our health and our morale. It is our lot to have become sedentary- creatures ; our houses gnaw at us in our sluggishness, like a consumption. We shall soon need far too many sanatoriums. We are to be pitied. Our houses disgust us ; we fly from them and frequent restaurants and night clubs ; or we gather together in our houses gloomily and secretly like wretched animals ; we are becoming demoralized. p 14.
Engineers fabricate the tools of their time. Everything, that is to say, except houses and moth-eaten boudoirs. p 14.
When a problem is properly stated, in our epoch, it inevitably finds its solution.
The problem of the house has not yet been stated. p 110.
LET US STATE THE PROBLEM. Let us shut our eyes to what exists.
A house : a shelter against heat, cold, rain, thieves and the inquisitive. A receptacle for light and sun. A certain number of cells appropriated to cooking, work, and personal life.
A room : a surface over which one can walk at ease, a bed on which to stretch yourself, a chair in which to rest or work, a work-table, receptacles in which each thing can be put at once in its right place.
The number o f rooms : one for cooking and one for eating. One for work, one to wash yourself in and one for sleep.
Such are the standards of the dwelling.p 114-5.
Eradicate from your mind any hard and fast conceptions in regard to the dwelling-house and look at the question from an objective and critical angle, and you will inevitably arrive at the " House-Tool," the mass-production house, available for everyone, incomparably healthier than the old kind (and morally so too) and beautiful in the same sense that the working tools, familiar to us in our present existence, are beautiful. p 263.
Everybody, quite rightly, dreams of sheltering himself in a sure and permanent home of his own. This dream, because it is impossible in the existing state of things, is deemed incapable of realization and so provokes an actual state of sentimental hysteria ; to build one's own house is very much like making one's will. p 263.
Our engineers are healthy and virile, active and useful, balanced and happy in their work. Our architects are dis­illusioned and unemployed, boastful or peevish. This is because there will soon be nothing more for them to do. We no longer have the money to erect historical souvenirs. At the same time, we have got to wash! Our engineers provide for these things and they will be our builders.
And all the humbug talked about the unique object, the precious " piece," rings false and shows a pitiful lack of understanding of the needs of the present day : a chair is in no way a work of art; a chair has no soul; it is a machine for sitting in. p 141-142.

Gaston Bachelard. The Poetics of Space
For our house is our corner of the world. As has often been said, it is our first universe, a real cosmos in every sense of the word. p 40.
Of course, thanks to the house, a great many of our memories are housed, and if the house is a bit elaborate, if it has a cellar and a garret, nooks and corridors, our memories have refuges that are all the more clearly delineated... A psychoanalyst should, therefore, turn his attention to tis simple localization of our memories. I should like to give the name of topoanalysis to this auxiliary of psychoanalysis. Topoanalysis, then, would be the systematic psychological study of the sites of our intimate lives. p 8.
Works
Deb Roy. Human Speechome
Keith Tyson. art machine
D. Fox Harrell. GRIOT
Le Corbusier. Villa Savoye
Henry David Thoreau. Walden Cabin
Buster Keaton. The Scarecrow
Francisco Goya. La Quinta De Sordo / Black Paintings.
Kelly Dobson. Blendie
Kelly Dobson. Machine Therapy
Mary Kelly. Post-Partum Document
Bateson Metalogues
Mike Kelley. Educational Complex
Mike Kelley. Extracurricular Activity Projective Reconstruction
Mike Kelley. Mobile Homestead
Harold Cohen. SF MOMA. 1979
Claes Oldenburg. The Store
Le Corbusier. Towards a New Architecture.
Buster Keaton. The Scarecrow
Henry David Thoreau. Walden Cabin.
Deb Roy. Human Speechome Proejct.
Mike Kelley. Educational Complex.
Mike Kelley. Mobile Homestead.
Francisco de Goya. La Quinta De Sordo.
Francisco de Goya. Black Paintings.
Andrea Zittell.
Marina Abramovic. The House With the Ocean View. 2002.
William Pope.L. White Room #4.
William pope.L. Wall Street Journal.
As the son of Robert Ryman, it is my job to walk in his footsteps to the front door of the family mansion and burn it to the ground; then claim that the conflagration is not so much a rejection or celebration but a negotiation-worth-having, which must be lived consciously in the space between contradictions. In this sense, there is no such thing as contradiction, only the fire that burns amidst the networks made up of them. (WP.L, 2005)
Machines for Living In
Sketches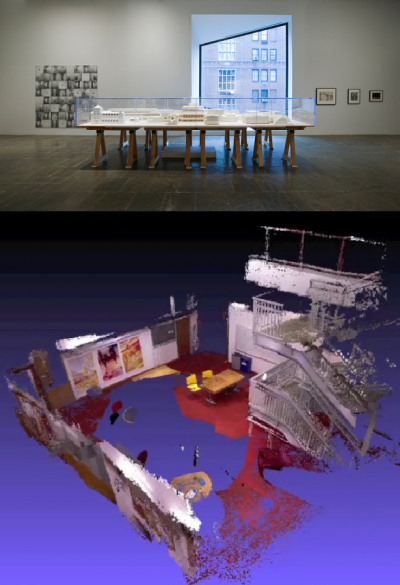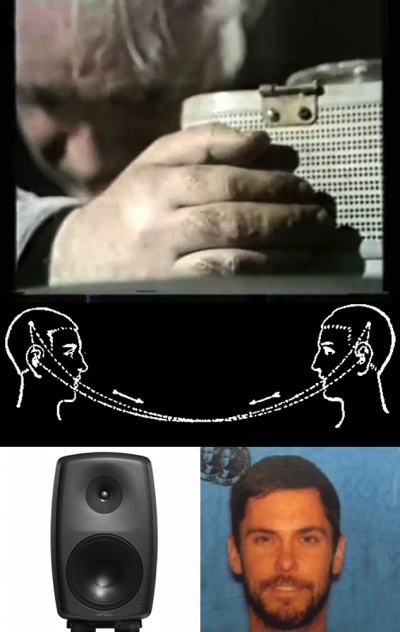 thoughts
constructing a house
constructing closed circuits between viewers and intelligent systems, for a reciprocal diagnosis of human and machine.
negotiating identity, personal history, in relation to fixed media.
inserting technologies into these self-gratification circuits.
machine observation and representation
hallucinogenic/delusional inclusiveness

keith tyson ('life the universe and everything')
walt whitman
something with more of a narrative premise
performance with my digital doppelgängers
treat myself as datasource.
computer gives me answers (taking my notes, sketches, ideas as material to be mined...)
words make meaning ReVerb
language, the universal solvent
microcut shredder, laser printer duality
agent of annihilation (backpack mounted shredder)
12 rooms

White Room (with boy in it)
Server Room
Surgical Ampitheater
Classroom
Bathroom
Bedroom
Studio

SLAM model of a house.
Interactive Fiction (IF) model of a house (12 rooms)
john henries

do a john henry with CNC router/plotter.
do a john henry with hanging pen plotter.
do a john henry with disembodied hand.

robotic arm book. my disembodied hand.
Tacita Dean. http://www.tate.org.uk/research/publications/tate-papers/cinematic-drawing-digital-age