Drawing Machine
From Robert-Depot
Striving for the Pope's Commission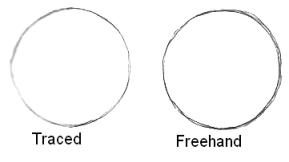 Hand and Eye
Legends: the high school teacher
linear apparatus. substructure.
Stroke recording apparatus. Two pulleys. Weights. Rotary encoders.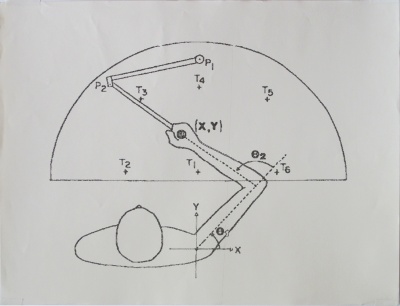 Simultaneous Recording and Reproduction
Simultaneous Location And Perversion (SLAP)
Drawing Machines
Drawing Machine As Printmaking
Harvey Moon
Antonie Waterloo
DynaCNC Drawing Machine
do a john henry with the dynaCNC
Pen Holder
Hanging Plotter
do a john henry with the hanging plotter
Drawing Machine in Sketchbook
Articulated Arm
do a john henry with the disembodied hand.
disembodied hand
Imprecision as painterly aesthetic.
Aikon by Frédéric Fol Leymarie and Patrick Tresset.
uarm
Thoughts
no such thing as perfect repetition. no matter what, there is noise in the system.
Pantomime / Mirror
GRBL1 fast
$0=7.023 (x, step/mm)
$1=7.023 (y, step/mm)
$2=7.023 (z, step/mm)
$3=10 (step pulse, usec)
$4=25400.000 (default feed, mm/min)
$5=45720.000 (default seek, mm/min)
$6=56 (step port invert mask, int:00111000)
$7=25 (step idle delay, msec)
$8=800.000 (acceleration, mm/sec^2)
$9=0.050 (junction deviation, mm)
$10=0.100 (arc, mm/segment)
$11=25 (n-arc correction, int)
$12=3 (n-decimals, int)
$13=1 (report inches, bool)
$14=1 (auto start, bool)
$15=0 (invert step enable, bool)
$16=0 (hard limits, bool)
$17=1 (homing cycle, bool)
$18=0 (homing dir invert mask, int:00000000)
$19=400.000 (homing feed, mm/min)
$20=10000.000 (homing seek, mm/min)
$21=100 (homing debounce, msec)
$22=1.000 (homing pull-off, mm)

GRBL1 moderate