Students/Carol Ahn
Carol Ahn (Hangul: 안혜림;) is a Junior studying at the University of California San Diego as a Visual Arts major with an emphasis in Computing and a minor in Music. She was born in Garden Grove, California at some Korean Hospital, and is very much, Korean. She has one sister and one very weird boyfriend. She enjoys the presence of nice people and loves dogs. She has a strong appreciation for art which has always been one of her greatest interests ever since she was a little girl. During her spare time, she loves to draw, sketch, doodle, paint, and build things with her hands. She has a blog [1] that she tries to update ever so often. She is interested in commercial art and media involving design. She is taking Vis 147A to fulfill a part of her art requirement and to learn more about how to incorporate electronics into the realm of art and technology. She believes that art can be aesthetically pleasing, but at the same time should have a strong, purposeful idea to have an impact on society. She thinks that it will be interesting to see how electronics can play a role in that. She has had no particular experience with electronics, but has always been open to learning more about it. She is commonly referred to as "Barrel" or "Carolina" or "Caroline" as "nicknames"
Contents
Field Research
Midterm Project Proposal
Visualization
For my midterm project, I am going to create an art project involving silhouettes. I am first going to construct a building out of either cardboard or some sturdy material that will be strong enough, possibly a cardboard box or shoebox. I will then cut out windows in that shoebox, creating windows so that it appears to be similar to apartment buildings. Then I will use black construction paper and create silhouettes in the windows and attach lights into each of the different windows (maybe three or four?). In each window, there will be a different silhouette that can only be seen when the light is switched on. Thus, I will create some sort of aesthetic interface involving lights and the effect it makes against black paper. This is what it will look like visually. Electronically, I hope to make it quite simple. I want to make three to four switches depending on each window, and allow the viewer to switch on various lights that connect to the corresponding window. Nevertheless, the overall picture or conclusion of the piece should look something like this:
Diagram
Final Project Proposal
For my final project, I want to create an interactive art piece that allows the viewer to approach several chocolate bars. These chocolate bars are going to be constructed with either sensors or open/closed circuits. I wanted to make these chocolate bars so that when one goes up to lift one up or takes one, a LED display will show the number of child slavery within a specific nation. If I cannot get those specific statistics, i will just try to attain the amount of cocoa exported from the top countries producing cocoa beans. I will hook these pieces to the arduino and then have another wire connected to a stuffed animal where the LED will be displayed. The stuffed animal will wear some sort of band that says "SAVE ME" or "FREE ME" which will represent the children working in these cocoa fields.
What I want to portray through this piece is to show the slavery and bondage of children sold into chocolate industries as slaves. Many third world countries have these chocolate industries that enslave children to work in fields, chopping cocoa beans and continuing on this job until adulthood. My project is to propose an awareness of culture and slavery that still exists today. My main concept is to portray a claim about the child slavery industry and to show that when we consume, we don't often think about where it comes from or how it was made. Our perceptions of ourselves and the culture we live in directs us to not question and instead absorb within the spaces that are occupied around us.
Diagram
My original idea was to include three different switches for three separate chocolate bars indicating different countries, but I did not have enough digital pins for the seven LED displays, and so I had to just use one.
Final Diagram: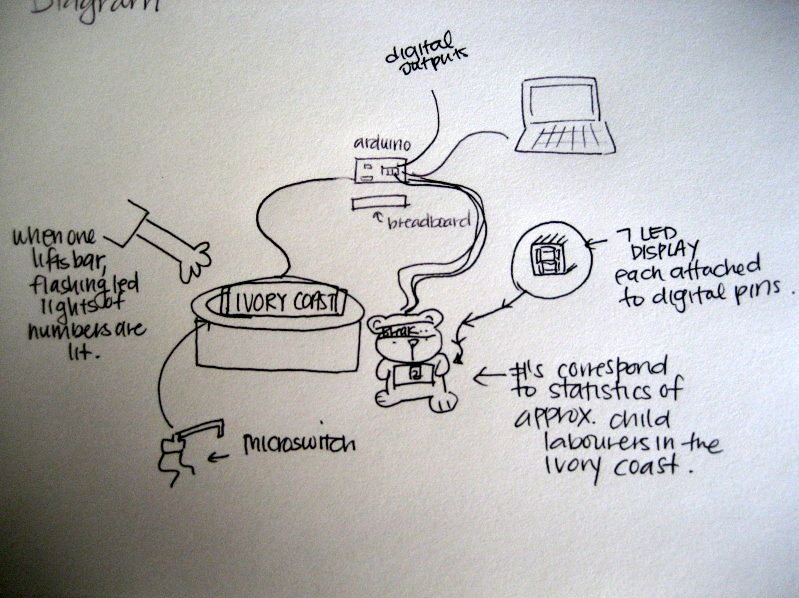 Arduino Code
int LT = 7; int LB = 0; int BB = 1; int RB = 2; int MM = 4; int RT = 12; int TT = 8;
int ivorycoastSwitch = 13;

// The setup() method runs once, when the sketch starts
void setup() {
 //Serial.begin(9600);  
 // initialize the digital pin as an output:
 pinMode(RT, OUTPUT);
 pinMode(RB, OUTPUT); 
 pinMode(BB, OUTPUT); 
 pinMode(LB, OUTPUT); 
 pinMode(MM, OUTPUT); 
 pinMode(LT, OUTPUT);
 pinMode(TT, OUTPUT); 
 pinMode(ivorycoastSwitch, INPUT);
 
 clearer();
 

}
// the loop() method runs over and over again, // as long as the Arduino has power
void loop() {
 while (digitalRead(ivorycoastSwitch) > 0) {
   
   one(); 
   delay(1000);
   clearer();
   
   five();
   delay(1000);
   clearer();
   
   if (digitalRead(ivorycoastSwitch) == 0) {
     break;
   }
   
   delay(3000);
   
   three();
   delay(1000);
   clearer();
   
   seven();
   delay(1000);
   clearer();
   
   eight();
   delay(1000);
   clearer();
   
   if (digitalRead(ivorycoastSwitch) == 0) {
     break;
   }
   
   delay(3000);
   
   one();
   delay(1000);
   clearer();
   
   seven();
   delay(1000);
   clearer();
   
   four();
   delay(1000);
   clearer();
  
  
   if (digitalRead(ivorycoastSwitch) == 0) {
     break;
   }
   
   delay(3000);
   
   two();
   delay(1000);
   clearer();
   
   zero();
   delay(1000);
   clearer();
   
   four();
   delay(1000);
   clearer();
   
   delay(3000);
 }
 

}
void zero() {
 digitalWrite(LT, LOW);
 digitalWrite(TT, LOW);
 digitalWrite(RT, LOW);
 digitalWrite(RB, LOW);
 digitalWrite(BB, LOW);
 digitalWrite(LB, LOW);

}
void one() {
digitalWrite(RT, LOW);
digitalWrite(RB, LOW);


}
void two() {
digitalWrite(LT, LOW);
digitalWrite(RT, LOW);
digitalWrite(MM, LOW);
digitalWrite(LB, LOW);
digitalWrite(BB, LOW);


}
void three() {
digitalWrite(LT, LOW);
digitalWrite(RT, LOW);
digitalWrite(MM, LOW);
digitalWrite(RB, LOW);
digitalWrite(BB, LOW); 


}
void four() {
  digitalWrite(TT, LOW);
  digitalWrite(MM, LOW);
  digitalWrite(RT, LOW);
  digitalWrite(RB, LOW);

}
void five() {
  digitalWrite(TT, LOW);
  digitalWrite(LT, LOW);
  digitalWrite(MM, LOW);
  digitalWrite(RB, LOW);
  digitalWrite(BB, LOW);
 

}
void six() {
 digitalWrite(TT, LOW);
 digitalWrite(LT, LOW);
 digitalWrite(MM, LOW);
 digitalWrite(LB, LOW);
 digitalWrite(BB, LOW);
 digitalWrite(RB, LOW);

}
void seven() {
 digitalWrite(LT, LOW);
 digitalWrite(RT, LOW);
 digitalWrite(RB, LOW);

}
void eight() {
 digitalWrite(LT, LOW);
 digitalWrite(TT, LOW);
 digitalWrite(RT, LOW);
 digitalWrite(MM, LOW);
 digitalWrite(RB, LOW);
 digitalWrite(BB, LOW);
 digitalWrite(LB, LOW);

}
void nine() {
 digitalWrite(LT, LOW);
 digitalWrite(TT, LOW);
 digitalWrite(MM, LOW);
 digitalWrite(RT, LOW);
 digitalWrite(RB, LOW);
 digitalWrite(BB, LOW);

}

void clearer() {
digitalWrite(RT, HIGH);
digitalWrite(RB, HIGH);
digitalWrite(MM, HIGH);
digitalWrite(BB, HIGH);
digitalWrite(TT, HIGH);
digitalWrite(LB, HIGH);
digitalWrite(LT, HIGH);
 

}
Visualization